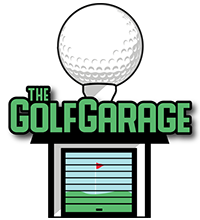 Clubs: We do not provide clubs at the Golf Garage, so you will need to bring your own. If you are a beginner and do not own clubs, please call us and we will do our best to accommodate you.
Booking Time: On average, it takes one player one hour to play 18 holes of golf. If playing with more than one person, allot one hour per person if you plan to play 18 holes.
Attire: Golf shoes or sneakers are required in the bays for safety and turf protection. No metal spikes permitted. Athletic or comfortable clothes are recommended. You will want to be comfortable swinging a golf club, but golf attire not required.
Arrival: In order to maximize your time in the bay, please arrive 15 minutes before your scheduled booking. You will need time to park, check-in and get set up in your bay. The clock starts at your scheduled booking time
Cancellation Policy: Should you need to cancel or reschedule, please notify us at least 12 hours in advance. Cancellations made within less than 12 hours will not be re-funded unless you reschedule your time. Clients who do not show up are subject to the full cost of the service booked. We value your business and your time & due to our complex scheduling we ask that you respect our policies.
Choose Date
Date Chosen
Next Available
Fri, Jun 25, 2021 at 1:15 PM
David Hilgers - $90.00
Fri, Jul 2, 2021 at 11:15 AM
David Hilgers - $90.00
Fri, Jul 2, 2021 at 11:30 AM
David Hilgers - $90.00
Fri, Jul 2, 2021 at 11:45 AM
David Hilgers - $90.00
Fri, Jul 2, 2021 at 12:00 PM
David Hilgers - $90.00
Owner, instructor and professional golfer, David Hilgers, brings you the ultimate indoor golf experience at The Golf Garage. Hilgers is a Central PA native who knows the pains of missing golf during those gloomy winter months and rainy PA days. He doesn't want you to skip a beat when it comes to your golf game, which is why he's introduced an indoor golf haven to meet your golf needs year-round.